Versione italiana

How to build a traditional canoe paddle
In Italy you can purchase many kinds of canadian caonoe paddles.
You can find wood, carbon, alluminium and plastic ones.
You can find them with flat blade, with concave blade, with, or without reinforce on the bottom edge, with straight or bent shaft.
Some are cheep, other ones are wery expensive.
But you can't find any north America traditional style canoe paddle.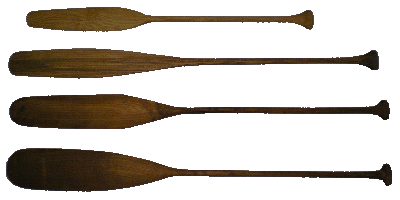 Some classic Canadian canoe paddles design.
This kind of paddle is particularly suited for long canoe trips, on deep water (lakes, sea), with open canoes.
If you like travelling for many days with your canoe, if you like to glide fast and noiseless on lakes, you shouldn't miss one of these paddles.
The main difference between a common canoe paddle ad a traditional design one, is in the blade shape and sizeing.
While "common" canoe paddles have a wide and short blades, traditional Canadian canoe paddles blade shapes are higher and narrower.
This make a gentle and noiseless water plungeing (you won't any more hear that bad "plonf" sound at the beginning of each paddle stroke).
The short width makes the blade easy turn and glide in the water, without lifting it out of the water.
The blade length makes easier to keep a straight canoe canoe glideing.
Since they need deep water, and since the blade is easier to slip in the water, traditional design canoe paddles are not the best choice for white water canoeing.
Even if you can't easily find a traditional design canoe paddle in Italy, you should not be discouraged:
You can buy your own by Internet (Pagaie Grey Owl, Turtle Paddle Works, Shawand & Tenney, Carlisle, Holzstoff, Rutabaga).
But, with a very little amount money, you can build your own paddle. You may customize your paddle on your own need, and you'll probably be happier about that.
In the following lines I'll give you direction about how to do that.
Wood
Traditional design canoe paddle are usually made from a single piece of hard wood.
Wood is a wonderfull natural compound, made of long chain cellulosa molecules, cross linked by lignum.
From this structure it derives its particular properties of flexibility, strength, buoyancy.
Wood is stronger than steel at weight parity.
This is why wood is still now used for aeronautic building, high performance sailing boat, motorboats, for propellers, ski, etc., in spite of the advent of technologically advanced compound like kevlar and carbon.
Since it is impossible to find two pieces of wood that are the same, as far as color, grain direction, etc, and since every piece is handcrafted, carved, shaped, every paddle is like a sculpture, a single irripetibile sample.
And the beauty and the feeling of a wood paddle can't be compared to anything else.
Hard woods are particularly suited for traditional canoe paddles making.
I advise you to chose a board sawn near the center of a log, with flat grain (each wood layer stacked in the plane of the blade from the back to the front of the paddle).
This makes the paddle unlikely to wrap or split, when exposed to many cycles of soaking and drying.
It's better to avoid knots and irregular grain pattern.
I recomend to take a paddle shape with you, when you go to the saw mill to chose your board.
Ash is suited for paddle making and is quite easy to find.
It is hard and elastic.
It's quite easy to carve even when it is seasoned.
Cherry is an other very good choice.
It is a little heavier, and more expensive, but also harder.
Paddles made from this wood have a beautifull reddish color (expecially when covered with good flatting or synthetic varnish), and can be shaped with thin blades, without missing strength.
The drawback is that this wood is harder to work with (planes, rasps, and cutting tools will have a good challange in "to biteing" the wood).
Spruce is cheep and easy to find.
It's light and soft and is easy to be carved.
Paddles made from this wood are quite easy to chip and blunt.
That's why you should make thicker blades.
Spruce may be a good choice either to train yourself in building paddles, or to build light paddles for your childrens.
They will paddle only for short times each day, and they use the paddle for few years (they grew up very fast).
The shape
To build a paddle you need to know its shape and size.
You can either get that measures from a paddle that you bought earlier, or you can use the ones I wrote in the following tables.
I use the following pattern to build my own paddles.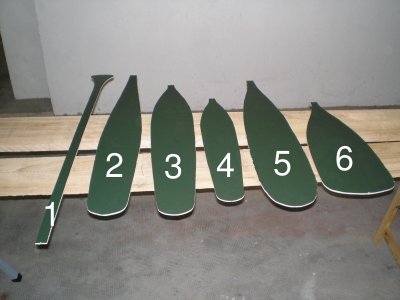 Some of the shapes I use to build my own paddles:
1= shaft with handle
2= Algonquin
3= Ottertail
4= Child Ottertail (for 135 cm tall child)
5= Beavertail
5= Sugar Island
There are several tables, each showing data of a single paddle shape.
Select the table of the paddle shape you like most.
Each row locates a point of the blade edge on each side of the paddle.
You can either draw the paddle shape on thin plywood (to have a re-usable pattern), or you can immediately draw it on the wood board you will use to make your paddle (If you are going to build a single paddle).
You should first draw a long straight line marking the center axis for the whole paddle length.
This line is very important in order to keep the proper alignment of paddle and shaft.
In the first column of the table there is the height of each point from the bottom of the paddle.
In the second column of the table there is the distance from the center line on each side of the paddle, at the height shown in the first column in the same row.
If you draw all the points shown in a tabble, and then you draw a line conncting all these points, you'll have your blade shape ready to cut.
Shaft
The paddle shaft should be 2,7 cm wide, and 3 cm thick.
The handle can have different shapes.
For traditional canadian paddle, I like most reversed pear handle shape.
To draw handle and shaft, I use a plywood pattern, whose length shoul be at least 95 cm.
Starting from the top of the handle I marked different length to match width the top edge of the blade, in order to be able to quickly draw the whole paddle shape, with the overall length I want.
Algonquin paddle
This paddle has a small blade surface. This lets you keep high frequency paddelling rates for long time.
It has a high aspect ratio (height/width).
It is easy and pleasant to move in the water.
It's particularly suited for long flat water trips.
It's not tireing.
It's one of my favourite paddle.

Algonquin
surface=793 cm2
h. 160-165 cm
Height
Width
1,5
3,8
3,0
5,0
5,0
5,2
10,0
5,6
15
5,9
20
6,1
25
6,2
30
6,5
35
6,5
40
6,3
45
5,8
50
5,3
55
4,7
60
4,0
65
3,3
70
2,6
75
2,0
80
1,4
81,5
1,3
Ottertail paddle
There are many ottertail paddles. Some are bigger than other ones. Some have angled shaped shoulders. The edge of these paddles makes a blunt angle (instead fo a large curve) in the widest part of the blade.
The narrow tip makes the water entry gentle and noiseless.
It's easy and pleasant to handle in the water.
The blade surface is greater then Algonquin, and lets you a more powerfull paddleing.
Ottertail is the paddle that I more often use.
I have made a scale reduced version for my daughters (they are about 135 cm tall).
You can get even this paddle sizes from the tabble on the right.

Ottertail
surface=825 cm2
h. 155-160 cm
Height
Width
2,5
4,4
5,0
4,8
10,0
5,5
15
5,8
20
6,2
25
6,5
30
6,8
35
6,9
40
7,0
45
7,1
50
7,0
55
6,4
60
5,4
65
3,9
67,5
2,9
70
1,9
72,5
1,4
75
1,3

Child Ottertail
h. 126 cm
Height
Width
2
3,6
5,0
3,9
10
4,3
15
4,8
20
5,1
25
5,4
30
5,5
35
5,6
40
5,4
45
4,6
50
3,4
55
1,5
58
1,3
Beavertail paddle
Beavertail is a common classic canoe paddle blade shape.
It has a greater surface than other classic canoe paddles, and even greater than modern white water paddles.
It needs more power from your arms, may be tireing in long distance trips, it isn't as easy as other paddles to be handled in the water.
Water entry is not as silent as other paddle design.

Beavertail
surface=954 cm2
h. 150-160 cm
Height
Width
2
4,5
5,0
6,3
10,0
7,7
15
8,3
20
8,2
25
8,2
30
8,0
35
7,7
40
7,5
45
7,2
50
6,4
55
5,6
60
4,6
65
3,1
70
2,0
75
1,9
76,5
1,8
Tools
To build a traditional canadian canoe paddle you don't need strange or complicated tools.
Here is a list of tools that I recommend:
Essential:
Pencils
Ruler (lenght > or = 160 cm)
Square angle ruler
Jig saw, with hard wood suited blade, able to make a 3 cm deep cut
Hand driven straigt blade saw (if you miss an adjustable cut depth circular saw)
Sanley Surform (this tool is half a way between a plane and a rasp)
Sand paper (sand canvas is better) with great (40), medium (80), and medium-fine (120) grit.
Recommended:
Working bench with clamps
Caliper to measure thickness
Adjustable cut depth circular saw (instead of the hand driven straigt blade saw of the previous list).
Hatchet (sized so that you can handle it with a single hand)
Power band sander.
Power plane.
Low angle plane.
Spoke shaver
Power wheel grindstone, or hand flat grindstones (Japaneese water grind sones are very good) to sharpen your tool blades
Building your paddle
Cutting your board
You should first draw the outline of your paddleon on the wood board.
If you think you will build many paddles, I advise you to draw and cut the paddle shape on thin plywood (to have a re-usable pattern).
Drawing a center axis line is very important in order to keep the proper alignment of paddle and shaft.
You should place your paddle drawing outline away from wood nodes.
You shoud try to have flat grain wood.
If wood grain goes out of the shaft or out of the blade, you'll have a weak paddle, and it may easily brake or warp.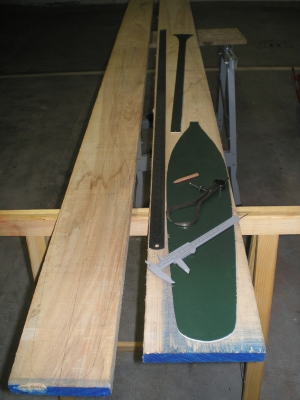 Tools to draw and measure: straigt ruler (at least as long as paddle height), blade form, handle-shaft form, pencil, calipers (to measure the paddle thickness in the center of the blade).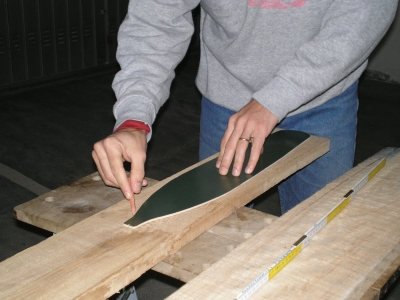 Paddle drawing, useing a form.
You can cut the paddle outline either by a jig saw or by a band saw.
It's important to have a good blade.
Some blades can't easily cut hard wood, they often burn wood by friction, and clog blade teeth with blackish rubbery clay.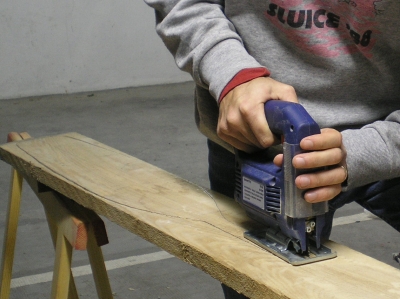 Jig saw to cut the outline of the paddle.
Even if you are very accurate, you'll realize that your cut has some little imperfections.
I advise you to adjust the cut surface, before going on with your work.
I use Stanley Sureform to do this work. It has a long flat cutting surface, that takes away wood only on prominent points, and makes a regular flat surface.
Furthermore you can increase or decrease the tool cutting ability, by modifying the blade drive angle.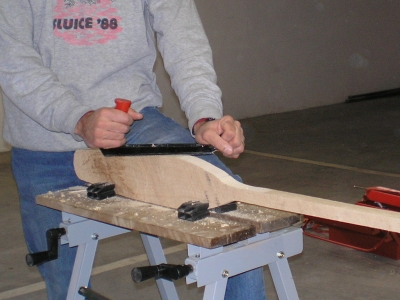 Adjusting the outline cut of the paddle by Stanley Surform.
Drawing the thickness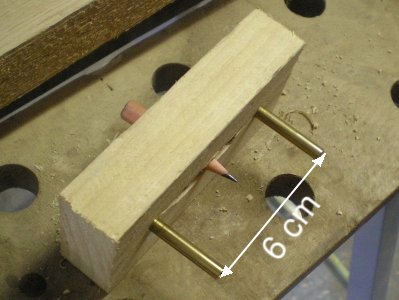 This tool is used to mark half thickness of the board you use to make your paddle.
It is not to say that the holes to accommodate the side stoppers and pencil must be perfectly perpendicular to the wood block surface.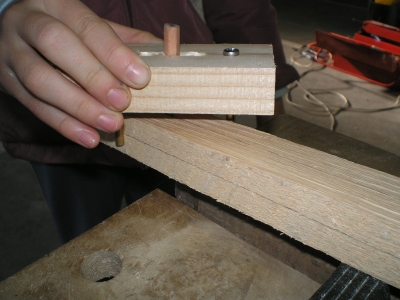 Keeping the side stoppers on the board surface and dragging the new tool along the side of your boare, the pencil will mark the half thickness.
This line is fundamental when thinning the blade.
In order not to make the balade with a surface more convex than the other one,
In order to make a regular blade edge.
In order not to make an helix shaped blade.
In order to make a blake that cuts easily the water without undesired deflections.
The blade edge should be exactly on that line.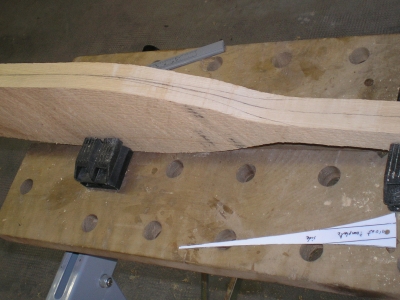 A flexible plastic shape, should be aligned with the half thickness line, to mark the lowering thicknes of the blade, in the area between the shaft and the center part of the blade.
Blade thinning
An electric power circular saw (or a good hand driven straigt blade saw) is used to make some cross-sectional cuts that save the center 11 mm thckness.
Than the blade is thinned with an Hatchet, removeing the wood beetween the saw cuts.

Stanley Surform is a very good tool to smooth the surface, and to make the lowering thickness between the shaft and the center part of the blade (Looking at the lines you previously draw on the sides).
Arrotondamento del manico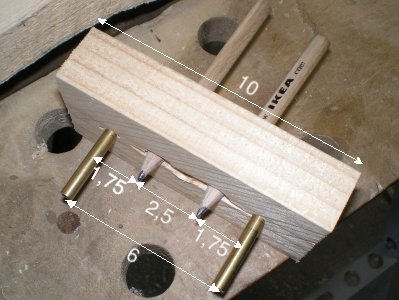 Lo strumento da utilizzare per la marcatura delle 8 linee guida che indicano il materiale da togliere per far diventare il manico da quadrato ad esagonale.

Mantenendo i riscontri laterali dello strumento a contatto delle superfici della tavola e trascinando, le matite segneranno le linee guida per conferire al manico una sezione esagonale.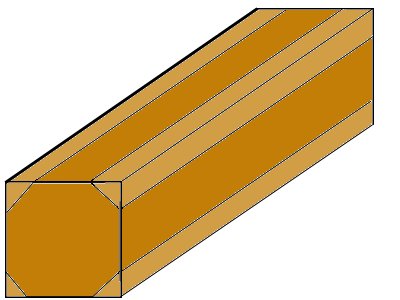 Questo disegno evidenzia le linee guida disegnate con lo strumento precedente ed il materiale da rimuovere (evidenziato con un colore più chiaro)
La parte colorata più scura rappresenta la forma del manico esagonale che si ottiene alla fine.
Utilizzo dello spoke shaver per arrotondare il manico della pagaia.
Viene rimosso il legno compreso tra le linee guida precedentemente disegnate, per conferire al manico una sezione esagonale.

Lo stesso risultato (conferire al manico una sezione esagonale) si può ottenere con lo Stanley Surform.
La lunghezza dello strumento facilita il mantenimento di una superficie regolare, senza intaccature.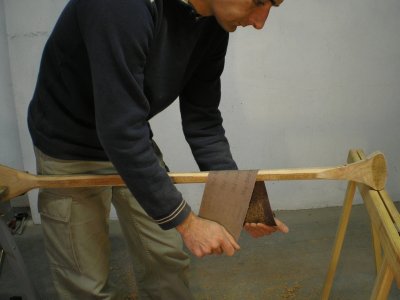 Con una striscia di carta vetrata a grana grossa, utilizzata "a fascia" si ottiene infine un arrotondamento migliore.
Sagomare il Pomello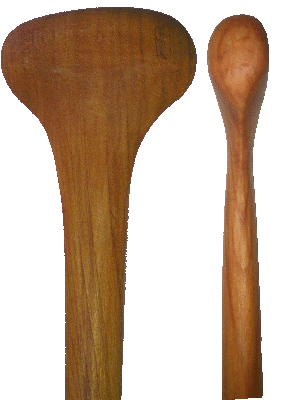 La forma che preferisco per l'impungatura è quella a pera rovesciata.
La vista di lato evidenzia che il punto più sottile del manico è nella zona appiattita appena al di sotto dell'impugnatura.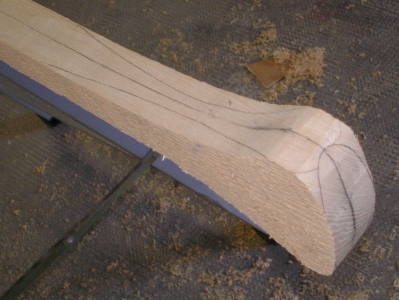 Disegno del profilo del pomello
Utilizzando delle sagome in materiale plastico sottile, che vanno accuratamente allineate alla linea della metà spessore, si disegnano la sagoma superiore e laterale del pomello.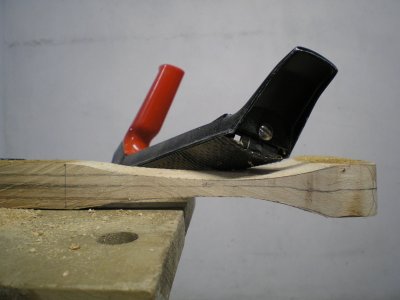 Lo Stanley Surform con la lama bombata, è ancora lo strumento più adatto a rimuovere il legno appena al di sotto dell'impugnatura sulla faccia anteriore e posteriore della pagaia, fino a raggiungere gli spessori individuati dal disegno laterale.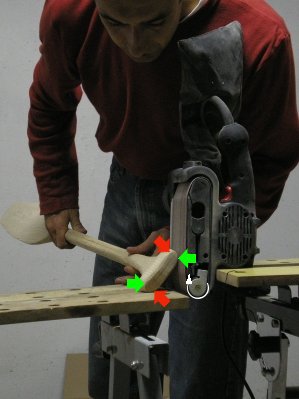 La levigatrice a nastro è di grande aiuto per arrotondare il pomello della pagaia, seguendo la sagoma disegnata sulla parte superiore del pomello.
La freccia bianca indica la direzione di movimento della carta vetrata.
Le frecce verdi indicano i punti che possono essere trattati dalla posizione in cui sono ripreso nella foto.
Per arrotandare i punti indicati con le frecce rosse mi sono dovuto spostare sul lato opposto (mi avreste visto girato di schiena, e con la pala della pagaia orientata verso di voi).
E' opportuno che il nastro si muova in modo da trascinare la polvere di legno in direzione centrifuga rispetto all'asse del manico. Quando la carta vetrata spinge verso il centro del pomello, il pezzo di legno tende a "saltare".
Sarà pertanto opportuno cambiare il lato da cui si tiene l pagaia rispetto alla levigatrice.
Protezione
Il legno, se non viene protetto, quando viene esposto al sole, all'umidità, a ripetuti cicli di immersione e di asciugatura, invecchia e si deteriora in fretta.
Sarà perciò opportuno proteggerlo in uno dei modi indicati di seguito.
Vernice trasparente all'acqua
È un prodotto che sconsiglio vivamente.
È facile che vi venga proposto dai rivenditori di vernici, e sono prodotti oggi molto diffusi.
Non lasciatevi tentare dalla semplicità d'uso, dagli scarsi odori che producono dalla facilità nella pulizia dei pennelli.
La vernice all'acqua renderà il legno molto meno attraente dei metodi riportati di seguito. Non è in grado di evidenziare le venature del materiale.
Crea una pellicola sulla superficie della pagaia che tende a rammollirsi in acqua.
Inoltre questa pellicola è fragile, e viene asportata con facilità, con i piccoli traumatismi e gli sfregamenti, che una pagaia inevitabilmente incontra durante l'utilizzo.
Vernice trasparente sintetica (flatting)
È un po' meno comoda da usare rispetto alle vernici all'acqua ma ha caratteristiche incomparabilemnte superiori.
Evidenzia meravigliosamente le venature del legno.
È molto più resistente da punto di vista meccanico (colpi abrasioni).
Non si altera significativamente con il bagnato.
Si "aggrappa" molto bene al legno.
Mantiene un grado di elasticità che rende più improbabile che la vernice essiccata si crepi o si sfogli.
Come tutte le vernici forma una pellicola sulla superficie della pagaia.
Per quanto possa essere di buona qualità, questa pellicola alla lunga si deteriora nei punti maggiormente traumatizzati (sprattutto nella parte bassa del manico e sulla punta della pala), ed espone il legno ad un rapido deterioramento.
Si rende quindi necessario carteggiare e riapplicare la vernice, almeno una volta all'anno.
Vernici trasparenti poliuretaniche, e bicomponente
Sono costose, ancora più difficili da utilizzare, e probabilmente anche più tossiche.
Hanno i difetti dei prodotti che proteggono il legno con una pellicola superficiale che si deteriora.
La rigidità della pellicola che si forma la rende suscettibile a scheggiature, crepe, ed esfoliazione.
Olio di semi di lino
È il prodotto che preferisco per proteggere le mie pagaie, è stato utilizzato per anni, e viene impiegato ancora dai falegnami, per proteggere le loro creazioni.
L'applicazione è estremamente semplice e rapida.
Non forma le "colature" che rovinano il risultato del lavoro dei "pittori" meno esperti.
Evidenzia bene le venature del legno.
Il legno trattato in questo modo mantiene la sua naturale porosità, con un aspetto satinato naturale, e gradevole al tatto.
A differenza delle vernici che formano un film superficiale, l'olio di semi di lino viene assorbito dalle fibre del legno, e lo protegge dall'interno. Così anche quando la pagaia sfrega sul bordo della canoa, l'olio rimane nelle fibre ed impedisce al legno di marcire.
È facilissimo di tanto in tanto (1 volta all'anno) rifornire le fibre del legno con un po' di olio.
Anche nel caso decida di apportare qualche perfezionamento alla pagaia levigando in alcuni punti, basterà aggiungere un po' di olio nei punti modificati, e non si vedrà nessuna differenza rispetto alle parti non modificate. Utilizzando la vernice si avrebbero invece delle differenze di spessore del film protettivo tra le zone modificate e quelle nuove, e si rischierebbe di rendere visibili le parti ritoccate.
Si possono utilizzare l'olio di lino crudo oppure l'olio di lino cotto.
Il primo protegge il legno penetrando nelle fibre, ma senza chiuderne le porosità.
L'olio di semi di lino cotto a contatto con l'aria sviluppa una reazione chimica che lo fa "seccare", chiudendo le porosità delle fibre del legno. Per questo, se si sceglie questo prodotto, dopo aver applicato l'olio, è bene ascigare l'eccesso dalla pagaia con uno straccio asciutto e pulito.
Recommended reading
"Canoe Paddles"
A complete guide to making your own
Graham Warren and David Gidmark
Firefly Books ISBN 1-55209-525-8
---